Above the signature picture, what I'll do here is bring you up to speed with what has happened and what is happening.
We have Graham Robson on board, ladies and gentlemen. Fantastic news because being a motoring journalist, we now have the day recorded through publications after the event. It traps this historical day when Capri met Ford for the very last time.

Graham is also going MC for the day and we will have a PA / marquee down on the test track with the Capris. We will then have personalities, past and present, along with Capri owners with special stories, to bring us all of the interest during the era when this model promised so much.

Steve Saxty is also on board people. Steve has been immense. rattling cages and shaking trees. This will give us our ticket into the whole Special Vehicle Engineering team that he envisions drawing on now. This will be brilliant because with Graham as MC, we will be getting into the root of Capri production, R&D. This is shaping into a wonderful day.

I have now been in preliminary discussions with Jeremy Walton. He needs to prioritise, so cannot commit at this stage. But he is keeping me posted.

Cars - we have some corner stones of the Capri development through the years. Some real rarities we have been looking at. But there are also some others that we are really interested in.

This event is starting to shape very very nicely.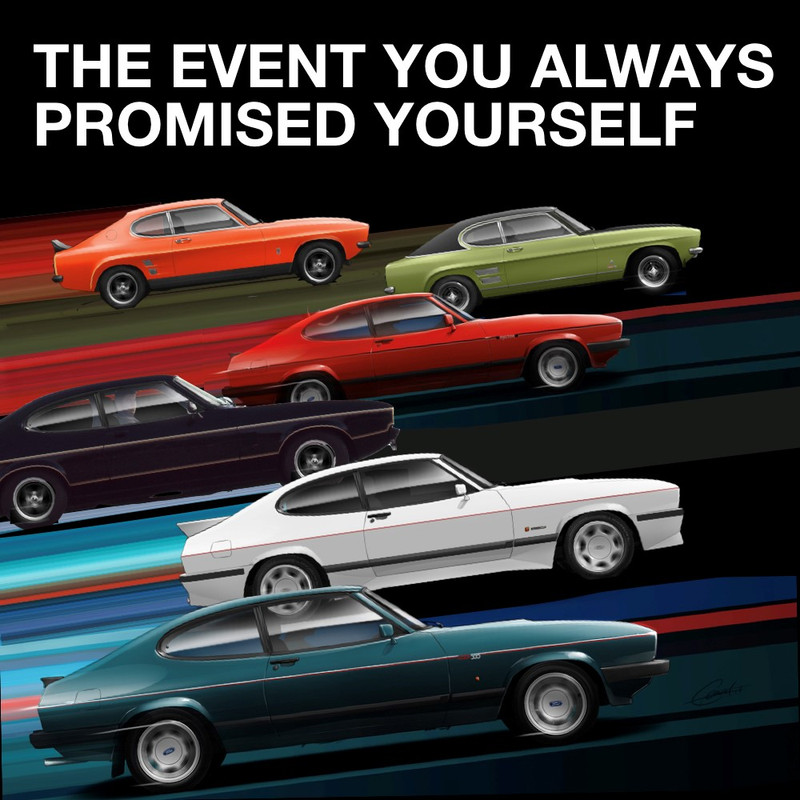 I would encourage you to watch the following Youtube clip. You may have seen this one before, but if you look through it now, the significance of what we are about to unfold will be striking – VERY STRIKING!
Even though the first units commenced being produced from November 1968, the Ford Capri was an instant hit when it was unveiled to the world press on Tuesday 21 January, 1969 in the Beethovenhalle in Bonn.
Friday 24 January, 1969, the Brussels International Motor Show is recognised to be the first public viewing of the Capri. It was the start of purchase orders being taken for the official launch in February 1969 of what was to become the most successful European coupé Ford have sold and arguably, the most successful coupé ever in Europe, with 1,886,647 units sold.
The Ford press advert in 1969 was hard hitting and stated:-
"The new Ford Capri is the kind of car you've probably been hoping someone would make ever since you first put foot to clutch pedal. A genuine fastback. That doesn't cost a fortune. Handles like a sports car. And holds 4 people".
However, by the mid 1980s, changing consumer purchasing patterns into hot-hatchbacks was placing the old coupé in the shade. The final Brooklands Capri 280 model left the production line on 19th December 1986, with the "bye-bye, Capri" banner on the roof (1,038th unit of these limited production run and almost 1.9mil produced units in total).
Since then, Ford have only placed very limited interest in the Capri, only talking about the model that was in the past and is no more. There has never been a specific Ford event to celebrate its most successful coupé.
That Top Gear footage recorded in January 1987 (showed on BBC2 when Series 17 of the Classic Top Gear programme was aired in April 1987) with Sue Baker at the helm of the Capri and with all of those Capri's on the Dunton test track was the last time this model was placed on this hallowed ground...........the last time.............
THAT IS UNTIL NOW!
With magnificent help from the St Francis Hospice charity,
Ford and the Capri are back!! Back in big style!
This really is the event you promised yourself for over 30 years and Ford, with St Francis Hospice, are reaching out to you, Capri Owner, to come back and present your car.
This seriously is an event you need to be at!!!