Afternoon all,
After a bit of a steer around leaf spring bolts. Managed to suss the rear set up but the front bolts were cut etc out to the point of destruction so I now can't look at them. The new bolts (from CCI) are the right length but have to go through three 'skins' of metal rather than just a nut either side of the leaf.
Does anybody know if bush or spacer goes into the chassis rail cavity (seen as a white hole in the below picture). I can't work out how the leaf is pinched properly as without something in the rail, one side of the leaf wouldn't be pinched up against a bolt nut/head and floating?
My explanation is horrible I know, but if someone could take a picture of their front leaf bolts both sides it would help me greatly!
Sadly the old bolts were taken out by some willing friends, but without forethought! Honest guv!
[/img]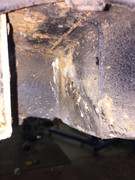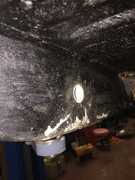 [/img]