Donator

Posts: 200
Joined: Thu Jun 07, 2012 9:50 pm
Car(s): D reg 280 , various others
Location: Airdrie
Hi guys does anybody sell new ones of theses ,or know what size the wire is thanks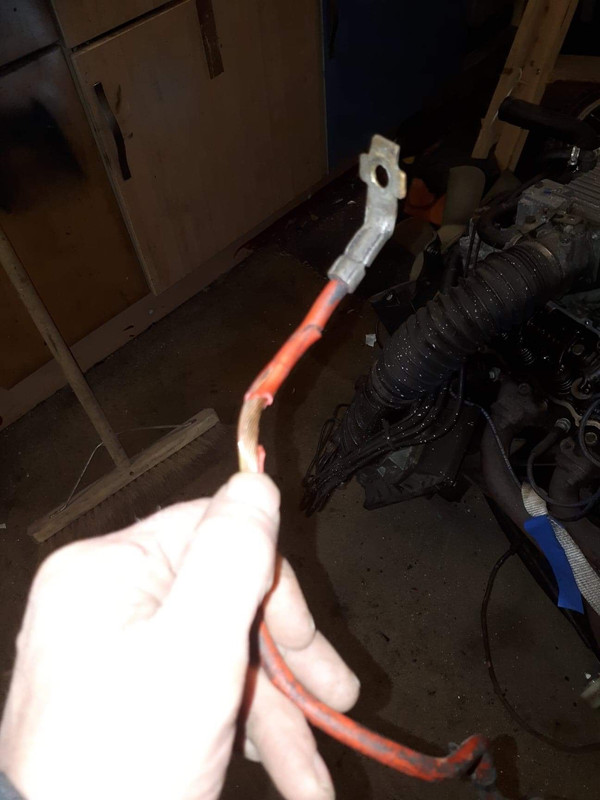 nearest gas station open 24 7
---
Donator

Posts: 13214
Joined: Sat Jan 25, 2014 7:38 pm
Car(s): '83 2.8 Injection (sunny days only)
'04 Toyota MR2 (owned from new)
Location: Ceredigion
Contact:
Hi Paul,
If you have an old-school motor factors near you, they might be able to supply some cable of the correct size.
Alternatively, just search on Google for battery cable, after a quick search I found this supplier:
https://www.autoelectricsupplies.co.uk/product_list/124
It should be quite easy to measure the required size, as it states here, the last number in the cable size is the diameter of the entire cable, including the insulation:
https://www.autoelectricsupplies.co.uk/ ... tegory/124
That should make it easy to buy the correct one.
It might be more of a struggle to find a new connector for flat battery terminals though. A change to a round post terminal set-up might be on the cards.
Andrew.
---
Donator

Posts: 765
Joined: Sun Jan 15, 2017 3:54 pm
Car(s): 2.8 Injection 1983 5 speed, weekend car. Audi A7 during the week. Slowly restoring a 1979 MGB + a 1964 Honda 250 twin. Previously owned 2 Capris.
I might have one here that will do. Can you measure how long the cable needs to be ?

Reason Im asking is I have a battery to starter motor lead that came with a Pinto engine I bought years ago to rebuild. Its around somewhere in a box of odd wires and i can dig it out if suitable . I know it was out of a Sierra, cant tell you which model other than it was something that had an injected 2.0 Pinto. There is a length of flexible conduit around it that provides a bit more protection against rubbing against hoses and cables.
---
Posts: 172
Joined: Sun May 11, 2014 6:43 am
Car(s): I have got a 1981 3000s and I have just got my self
A 1987 2.8i thay are both red
I had my first capri when I was 17" it was a 3000GTXLR
I have had a lot of fast fords vans all ways put bigger engine in
I also have had motor bikes I have a 1200 Suzuki bandit
Contact:
Hi which engine do you have as the 2.8 have a longer one
---
Donator

Posts: 200
Joined: Thu Jun 07, 2012 9:50 pm
Car(s): D reg 280 , various others
Location: Airdrie
Thanks guys all sorted,much appreciated,
---
Posts: 172
Joined: Sun May 11, 2014 6:43 am
Car(s): I have got a 1981 3000s and I have just got my self
A 1987 2.8i thay are both red
I had my first capri when I was 17" it was a 3000GTXLR
I have had a lot of fast fords vans all ways put bigger engine in
I also have had motor bikes I have a 1200 Suzuki bandit
Contact:
Are you looking for a battery cable
---
Donator

Posts: 200
Joined: Thu Jun 07, 2012 9:50 pm
Car(s): D reg 280 , various others
Location: Airdrie
---