Hi All, I have finally got myself a beauty of a Capri a Mk3 85 2.0 Laser with less than 40k
. The car is in beautiful condition with minimal rust well only small surface rust in certain areas.
However, I have a few questions.
Firstly, I have the original cassette player and have spent the past two days putting all the wiring back to original. Then taking the cassette player apart replacing the drive belt and fitting a new electric Ariel. However, I'm having two 'issues'. Firstly, I get a whine through the speakers and as the engine rev increases the whine changes pitch too regardless of the radio being on or off. I suspect this to be down to a bad ground but after talking to a local audio specialist he told me this may be resolved by using suppressor caps on the distributor? I grounded the Ariel to the body of the car so doubt it is this. What would be the 'correct' way to resolve this issue?
Secondly more of a question then an issue but I'm not sure if my radio picks up FM. Maybe a daft question but it's the first time in my life I'm using an analogue radio
it seems to find AM stations but nothing on the FM. I've posted a picture below of the radio I have. Am I right in saying this will not pick up FM?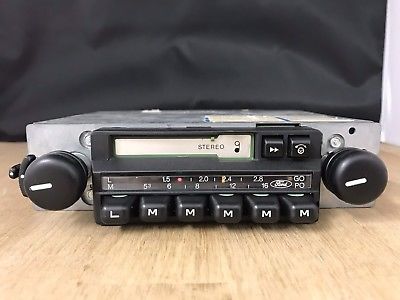 Other than this she just has the usual Capri issues. Cracked dash, seats have split where the grey cloth meets the plaited effect cloth, rev gauge has stopped working. Any recommendations on interior repairs in London would be appreciated.
Lastly am I correct in saying the rev gauge maybe down to the green cable that comes off the coil and runs to the clocks and by checking the continuity I could solve this issue?