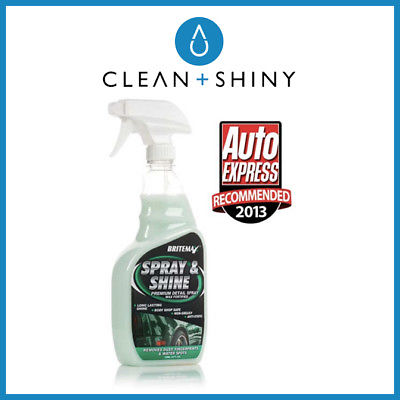 Hi all,
Following on from Andy's recent heads up on this detailing product and after trying quite a few similar products ranging in price from cheap to...not so cheap I was very eager to try this Britemax for myself.
I had a bit of the usual detailing spray that I brought to Deal with me to clean up after the journey down there, but I wanted to compare the Britemax when I got home after the the show. B112 had the usual car show dust, marks and dead flies from journey home so you can imagine I was eager to get her cleaned up pronto.
So I got the Britemax out for first time yesterday, gave it a good shake and got on with the job in hand. I must say, this is an excellent detailing spray indeed. I would go as far as to say its by far the BEST one I have used. Its so easy to apply and just has a quality feel to it. Its equally easy to buff off and it just fades away before your very eyes leaving no streaks/marks. It cleaned off all the dead flies etc with ease. Amazing stuff !!
I kept to treating one panel at a time so it would not dry up too much. Split the roof and bonnet into four sections BUT even a bit I missed and had dried buffed it off without streaks. Very impressed indeed !! The spray nozzle works great too. Has two settings. Wide spray and narrow pinpoint spray both of which worked great. Other cheaper sprays I have had some issues with the nozzle.
The thing with this Britemax and its only my opinion but when buffing off it just 'feels' like its leaving a very good quality coating on your paintwork unlike any other I have tried before....including even Autoglym Detailing Spray !! I
So to conclude, yes I know there are much cheaper products on the market that give a very satisfactory finish and give great value for money, I personally feel at approx £12 this product offers equally great value being such a quality detailer.
Guys this is only my personal review from my own experience using this for the first time but its so good I am already going to top up my garage shelf with more of this.
Thanks to Andy for the heads up ! This is deffo a product I will use from now on
All the best
Nick