---
From Capri World
Car: Mk3 Capri
Reg: B775XOO
Colour: Blue
Stolen From: Between Yeovil & Sherborne
Stolen When: 23/08/19
---
I'm pleased that this theme is an ongoing thing on the blog but unfortunately basic details of a stolen vehicle is not enough to catch these thieving bastards.

We need to know such details as,
Upholstery colour & design.
Engine details: 6-cyl, 4-cyl any modifications etc.
Gearbox & axle types.
Suspension: standard, konis spax etc.
Plus any other details that may be relevant.

It's obvious these lowlife are not going to sell a complete car because of the VIN, They are however going to resell the "secondhand" parts because as Capris become rarer the sale of parts will become more lucrative.

It's important to pool knowledge and ideas because just one part discovered could lead to the arrest and jail for the light-fingered, devious, pilfering scum.

And, just to rock the boat: (I think I'll leave to someone else to work out what I was going to write.)
---
---
Another Stolen
"My beloved Ford Capri which I have owned and loved for 15 years was stolen from outside my house in Capel Road, Forest Gate, E7 last night/early hours of today 22nd October 2019. If anyone has seen or heard any information about its whereabouts I'd be most grateful to hear any news. Reg: A886 BVO. Colour Silver. Ford Capri 1.6 LS Please share this post." Thank you, Sally
---
Donator

Posts: 5015
Joined: Sat Apr 19, 2014 3:40 pm
Car(s): Ford Capri 2.0 Laser,
Ford Fiesta 1.6 TDCi
Location: Enfield, London
andyd

wrote:

↑

Wed Oct 23, 2019 9:37 am

Another Stolen

"My beloved Ford Capri which I have owned and loved for 15 years was stolen from outside my house in Capel Road, Forest Gate, E7 last night/early hours of today 22nd October 2019. If anyone has seen or heard any information about its whereabouts I'd be most grateful to hear any news. Reg: A886 BVO. Colour Silver. Ford Capri 1.6 LS Please share this post." Thank you, Sally
Yep seen this too Andy. Very sad.
Here's a picture..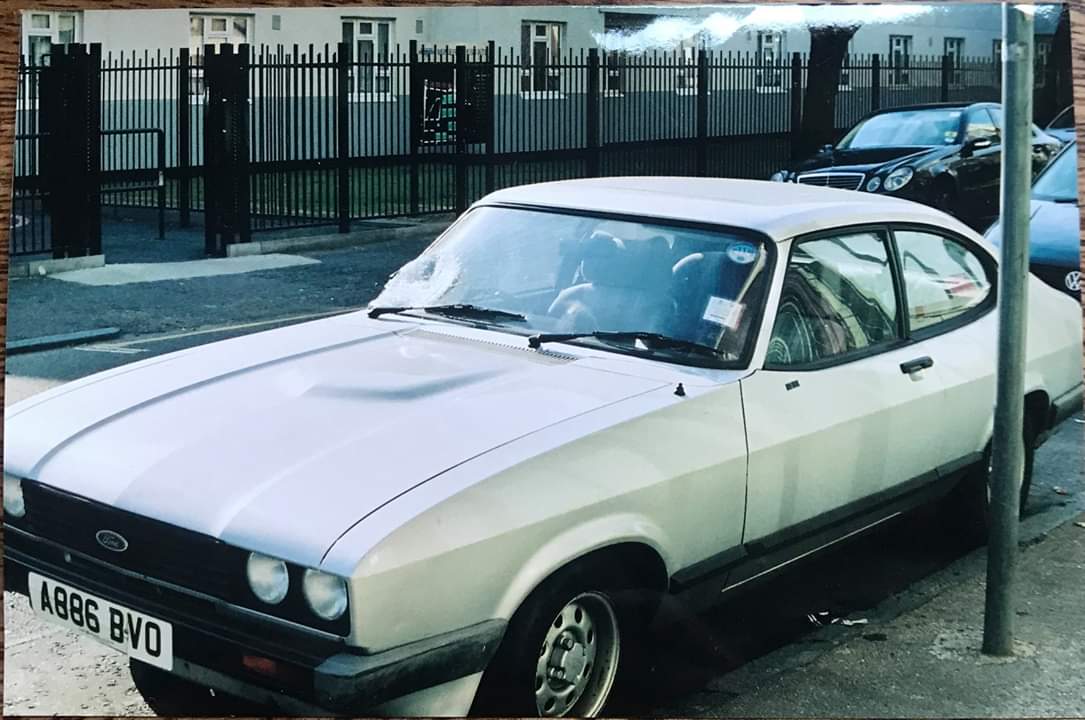 I was born a Fordoholic, They'll bury me a Fordoholic...
---
Donator

Posts: 13213
Joined: Sat Jan 25, 2014 7:38 pm
Car(s): '83 2.8 Injection (sunny days only)
'04 Toyota MR2 (owned from new)
Location: Ceredigion
Contact:
Sad news to hear. I hope they are able to quickly recover the car.

Andrew.
---
Donator

Posts: 289
Joined: Fri Dec 09, 2016 9:07 am
Car(s): Four 3 litre Capri's and 2 Mark 1 GXL's
Jesus this is literally 15 min's from where I live, time to tighten up on the security I think.
Sadly this recent theft also proves that it's not just 3 litres and 2.8s/Brookies their after.. the smaller engine Capri's also now seem to be on the menu.
Hope the lady gets her car back
Wayne
---